Presentation of Aleator
Aleator is a software for lottery players. This program is a very fast and powerful tool that will allow you to select the numbers to play according to the criteria of your choice.
It works with the following lotteries:
Eurojackpot
Euromillions
French Loto
Belgian Lotto
Swisslotto
UK Lotto
Aleator is not a program that will give you "ready-made" predictions, it is rather a great research and analysis tool.
This software is Windows compatible and requires an Internet connection.
To find out
how to acquire the latest version of the program
, click on the image below.

Main features
Aleator is composed of 5 modules:
Results
Statistics
Search
Wheeling Systems
Tickets
Results
The Results module provides you with a tab containing an overview of the results of all lottery draws. With columns containing various values such as sum, range, number of even/odd etc... You can sort these results by clicking on the column of your choice.
Other pages of this module: Detailed analysis of numbers, pairs, triplets, gaps.
There is also a page that displays the ranking of the combinations according to their profitability (best, worst and late winning combinations).
Statistics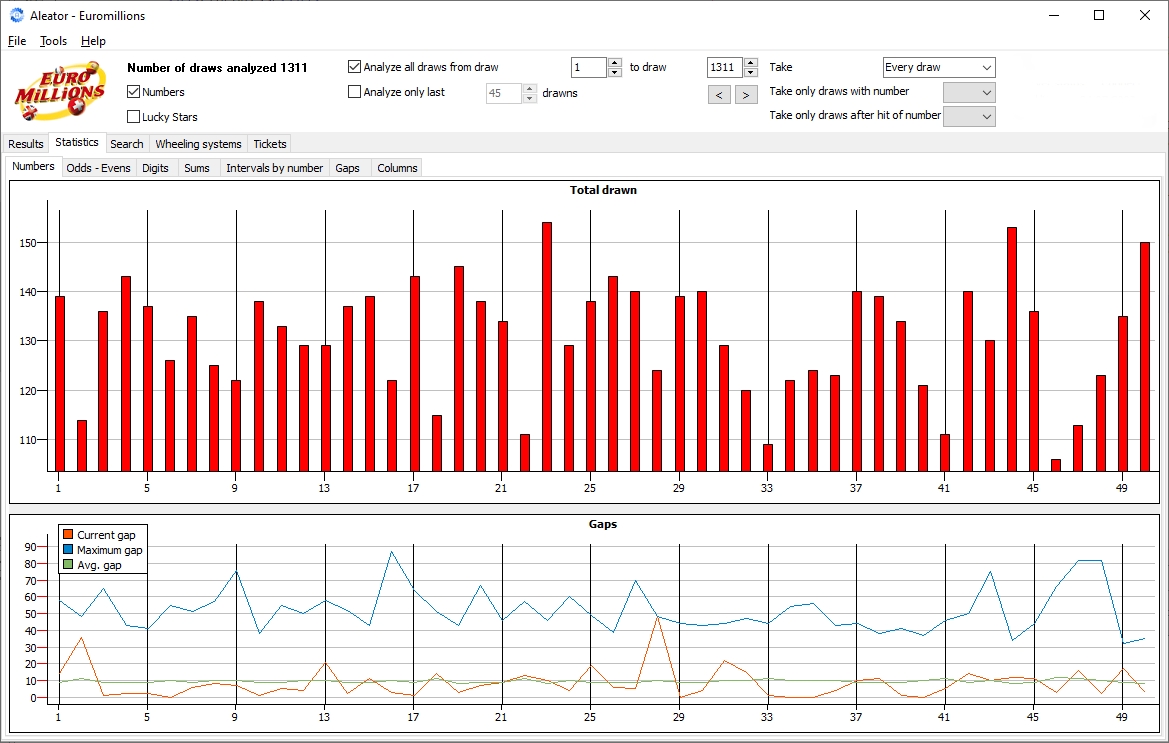 This module displays various statistics in graphical form, such as Statistics by Numbers, Pair-Odd, Finals, Groups, Sum, Spreads or Columns.
All these statistics are, like the Results module, customizable with an instant result on the screen.
Search
This module allows you to search the draw history for combinations of a certain number of numbers that have the largest gain delay or the largest or smallest number of outputs.
Wheeling Systems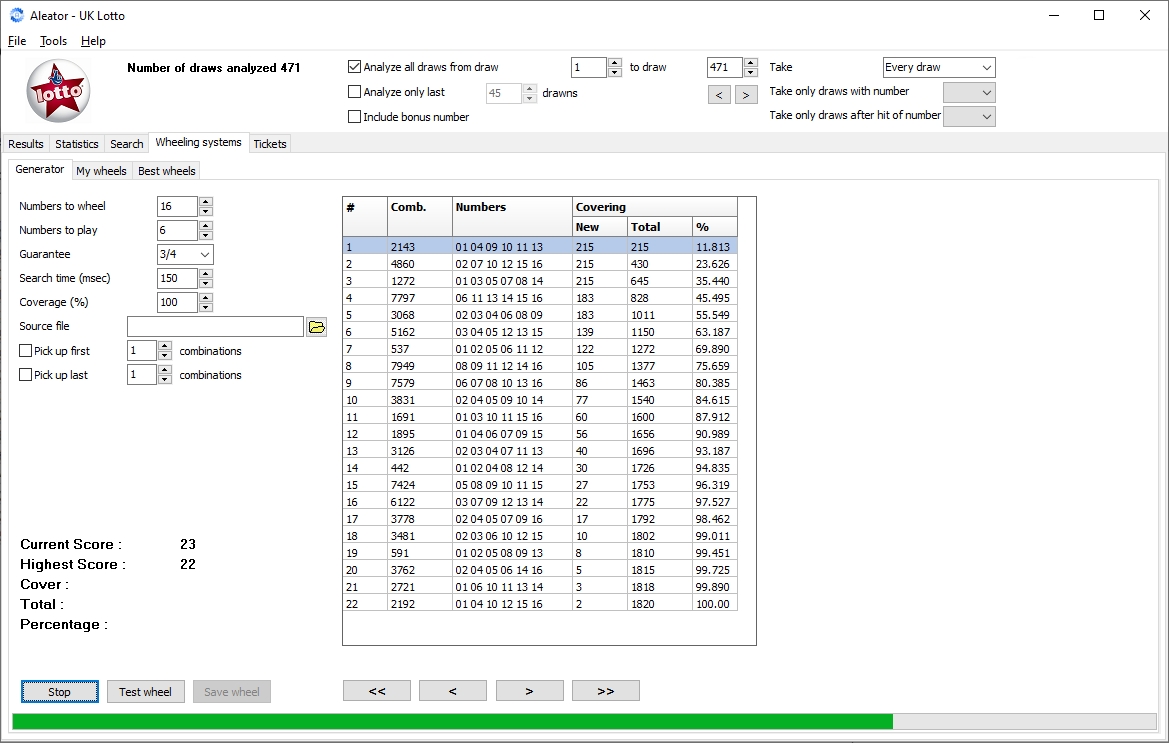 Wheeling systems are groups of numbers that allow you to play a certain number of numbers with a chosen payout guarantee. The goal of these systems is to play as few grids as possible while respecting the desired guarantee.
Aleator contains its own reduced systems generator which gives you the possibility to create all the systems you want. The best systems created by Aleator users are available to all other users via the internet.
Tickets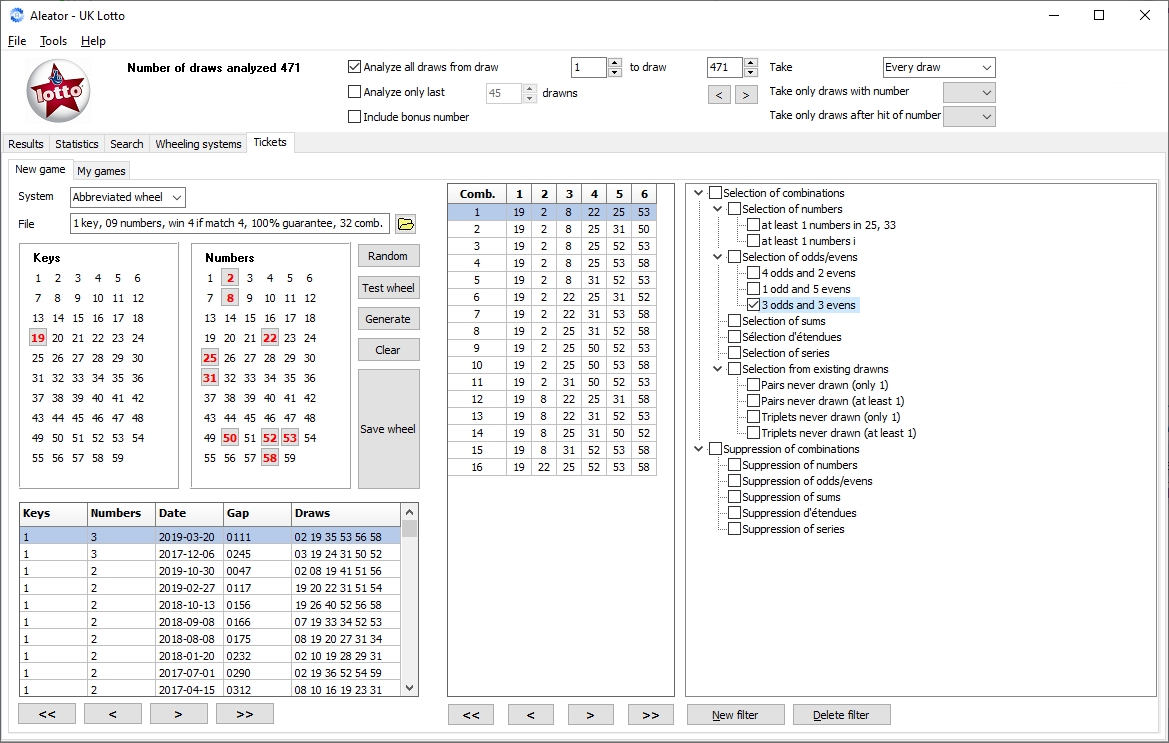 Creation of your tickets using abbreviated or full wheel systems, then possibility to apply predefined filters or filters of your choice.